Ceiba Renewables, a leading installer of high quality solar PV systems in Scotland, are offering a free Immersun installation with every 4kWp+ solar PV installation we undertake from now until the next Feed-In Tariff (FIT) cut on 31st March 2015.
The Immersun maximises savings by diverting excess solar PV generated power which is not being used in the house, into your hot water cylinder instead of going back on to the grid [see calculation / illustration below].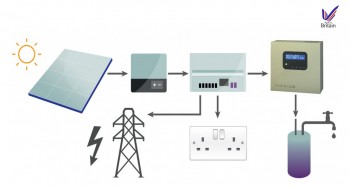 Immersun in action gives you a further explanation on youtube.
This great deal is designed to maximise savings on top of the income generated by the solar PV system. So not only do you benefit from a high performing solar PV system from Ceiba Renewables, your savings are maximised too, meaning quicker payback and lower energy bills!
As can be seen from the example illustrated table below, although the total income and savings without the Immersun equates to a very satisfying £873.20 a year, the savings with the Immersun make the total combined income and savings £1,095.20 a year!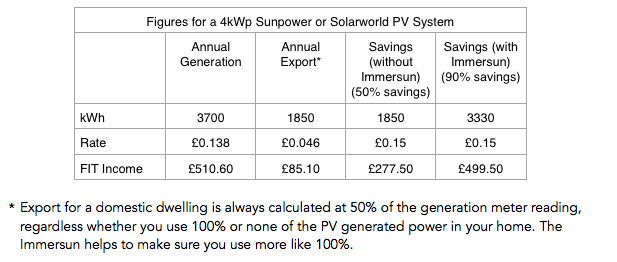 Why not give us a call or email us to book your free, no obligation technical survey and find out more:
Call: 0844 3574865
Email: info@ceiba-renewables.co.uk
Please quote "Immersun Offer" when you make your enquiry to be eligible for this great offer.